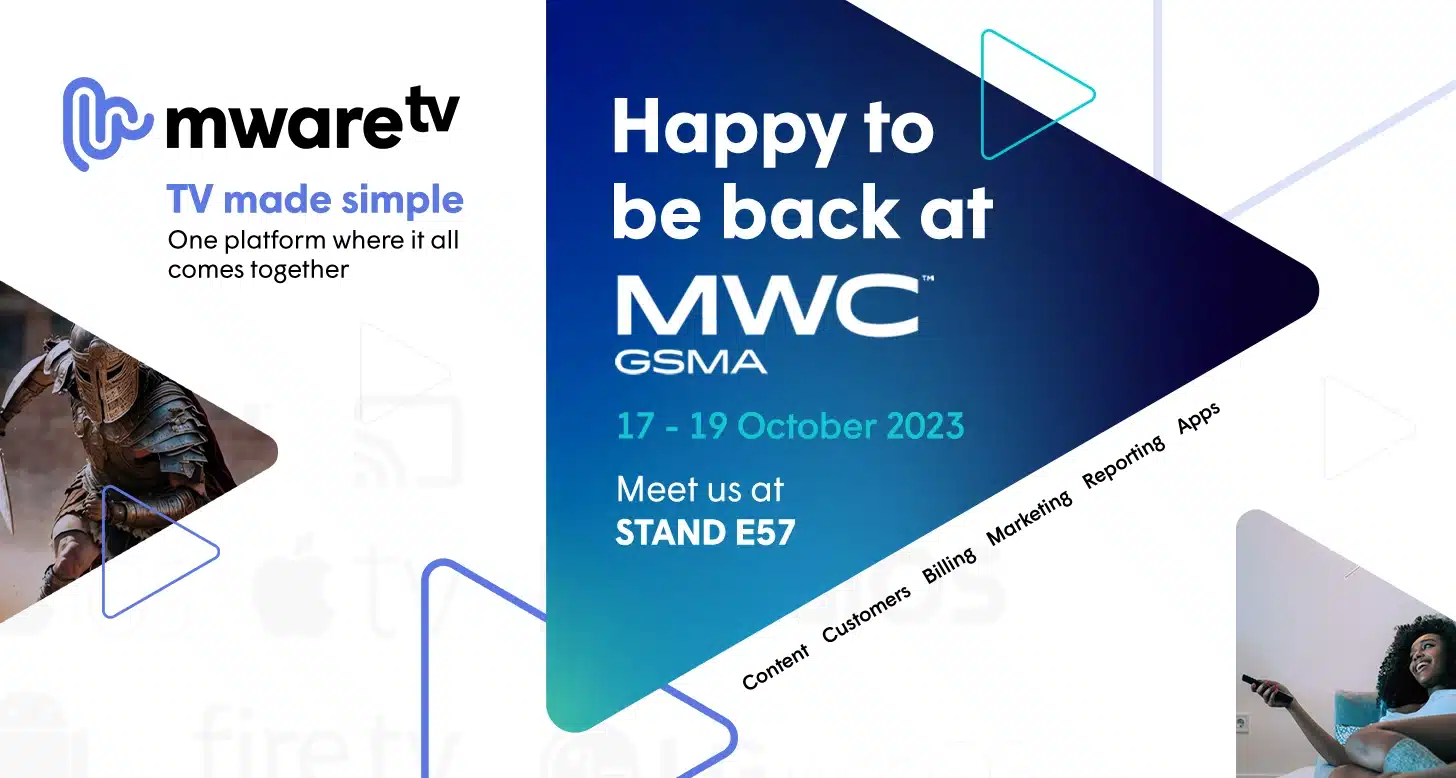 MwareTV will use its presence at Mobile World Congress Africa 2023 (Kigali Convention Centre, 17 – 19 October, stand E57) to showcase how simple, fast and cost-effective its service can be. With a complete package from content to streaming at a price point of $3 - $4 per subscriber per month, profitability is assured.
The Highlights
One-stop service includes content, apps, streaming and management
Unique App Builder tool for no-code drag and drop App creation
Ready monetization with integrated payment gateways and billing system
This includes a package of around 100 channels of engaging content relevant to the African market. Telcos can launch their service with no need for complex and time-consuming negotiations with studios and content syndication businesses, which would otherwise require specialist staff and lengthy legal proceedings. As a result, typically operators can launch a service – building loyalty and earning strong revenues for dat and VAS – within eight weeks.
The core MwareTV platform incorporates everything that is required to manage, schedule and deliver a rich OTT television offering. That includes brandable white label web clients and apps for all the common platforms (including iOS, Android and AndroidTV, TVOS, FireTV, KaiOS, Roku, WebOS, Tizen, WebTV and Lightning Framework).
The MwareTV platform is a software-as-a-service offering. Cloud hosting means no capital investment for the telco, and the service can be planned, managed and delivered from any app. Most important, MwareTV can deliver every aspect of the service, accessed from the intuitive user interface, providing a true one-stop solution.
Users can also take advantage of the unique App Builder package, a truly no-code drag and drop development tool that, just through drag and drop, allows richly functional and fully branded apps to be created, without the need to write a single line of code, or even to have any previous app design experience.
Monetization is clearly the goal when launching an OTT service, and MwareTV includes a billing module in its TVMS (television management system), another part of the core software. Again, the focus is on the end-user experience, making it simple to sign up and start enjoying the benefits of the service. For the operator the process is largely automated, for example ensuring renewals are rolled over, and it supports all the common channel business models, including FAST, SVoD, pay per view and tiered subscriptions.
"We first exhibited at MWC Africa last year, and we have a number of successful customers in the region," said MwareTV CEO Sander Kerstens. "We really understand the pressures on telcos, MNOs and other bodies who recognize that a good television service is a tremendous driver in retaining subscribers, but who are overwhelmed by the technical, operational and legal challenges in launching such an offering. We bring a proven, comprehensive and affordable system, in the cloud and ready to roll out at very short notice."
"The market for telcos and streaming in Africa is still seeing sustained growth and very healthy competition," Kerstens said. "We invite visitors to come and talk to us at MWC Africa. I promise you that, by the end of our conversation, not only will you understand how simple it is to develop and run a rich, branded television service using MwareTV software, you will walk away with a fully-worked, fully-costed proof of concept, showing clearly how you can meet and exceed your subscribers' expectations, and earn significant additional revenues."
Interested to meet:
Visit us at stand E57
Or plan a call or meeting with our team.
More info about the event visit the MWC Africa website